49 Tote, 53 Verletzte: Der Terroranschlag in Orlando im US-Bundesstaat Florida am 12. Juni 2016 war ein gezieltes Massaker an der LGBT-Community! Das folgenschwerste Attentat in den Vereinigten Staaten seit den Anschlägen vom 11. September 2001 und gravierendste gegen Homosexuelle hat viele höchst unterschiedliche Reaktionen ausgelöst – auch in der Welt der Stars. Ich habe eine Auswahl von Künstlern zusammengetragen, die sich insbesondere an die LGBT-Community gerichtet oder diese erwähnt haben. Das bedeutet nicht, dass andere Stars nicht auch mitfühlen. Es soll lediglich eine Sammlung von Statements sein.
Bislang keine Reaktion: u.a. Dolly Parton, Reba McEntire, Mariah Carey, Rihanna
LGBT-Künstler
Elton John
Our hearts go out to all the families and loved ones of those lost in Orlando. #prayfororlando #loveisthecure pic.twitter.com/nyfzJiyPma

— Elton John (@eltonofficial) 12. Juni 2016
Adam Lambert
#PRIDE! I am a GAY man and will not be made to live in fear. I stand unified with ALL of my community and our allies.

— ADAM LAMBERT (@adamlambert) 14. Juni 2016
My thoughts and prayers are w my brothers and sisters who were at Orlando's Pulse Nightclub. RIP to those who lost their lives.

— ADAM LAMBERT (@adamlambert) 12. Juni 2016
Ricky Martin
I am gay and I am not afraid. Love conquers all. #PrayforOrlando

— Ricky Martin (@ricky_martin) 12. Juni 2016
Pet Shop Boys
On Old Compton Street for the vigil in memory of those killed by the homophobic gunman in #Orlando. Neil x #PetText pic.twitter.com/Iw9p4xBxXd

— Pet Shop Boys (@petshopboys) June 14, 2016
Sam Smith
My heart is broken. Let people be people, let's love together. The world is with you Orlando ❤️ pic.twitter.com/pH5tBYn60o

— Sam Smith (@samsmithworld) June 13, 2016
Melissa Etheridge
My heart is with #Orlando. My sweet brothers and sisters. #EndGunViolence #LGBT

From my window @FreedomTowerNY is lit up rainbow as I am writing a song … #Pulse #Loveislove #Orlando pic.twitter.com/wu2PnSGVac

— Melissa Etheridge (@metheridge) 13. Juni 2016

— Melissa Etheridge (@metheridge) 12. Juni 2016
Boy George
LGBT crowd and their friends show solidarity in London for Orlando victims. So beautiful and moving! #Londonproud pic.twitter.com/PLlyKIHZ6d

— Boy George (@BoyGeorge) 14. Juni 2016
Holly Johnson
The profiles of those lost in the Orlando Pulse nightclub shooting https://t.co/F1BjLEyQ5O via @Yahoo

— HOLLY JOHNSON (@TheHollyJohnson) 14. Juni 2016
Marc Almond
And one thing the LGBT community is good at is having strength and standing tall and carrying on despite the hate. #orlando

— Marc Almond (@MarcAlmond) 13. Juni 2016
Rufus Wainwright
Lance Bass
My heart breaks for #Orlando. pic.twitter.com/benbKcz1ld

— Lance Bass (@LanceBass) 12. Juni 2016
Schwulenikonen und andere Künstler, die der Community nahestehen
Madonna
Die größte Ikone geht vorbildlich voran: Madonna hat sämtliche Social-Media-Kanäle für mehrere Solidaritätspostings genutzt. Und dabei auch ganz direkt die Community angesprochen.
You Will Not Be Forgotten. ❤️ Love is love! 🙏🏻 pray for Orlando 🙏🏻 pray for Humanity 🙏🏻 ☮☮☮☮☮☮☮☮☮☮☮☮☮☮ pic.twitter.com/gBWvMTpu97

— Madonna (@Madonna) 14. Juni 2016
Stop Hate. Stop Violence. ❤️❤️❤️❤️❤️❤️ #revolutionoflove pic.twitter.com/bcmYfy2utE

— Madonna (@Madonna) 12. Juni 2016
Love is Love. Stop Hate Crimes. 🙏🏻 Any form of terrorism is a form of Hate! pic.twitter.com/jBMOudzNMM

— Madonna (@Madonna) 12. Juni 2016
Lady Gaga
Die Sängerin hielt eine Rede in Los Angeles.
We can always count on one another's pain to remind us what strength is all about. #UnitedAsHumans #UnitedAsFriends pic.twitter.com/udBKNuo4km

— Lady Gaga (@ladygaga) 14. Juni 2016
Lady Gaga breaks down during speech at Los Angeles vigil for #Orlando victims https://t.co/zT3K4OSAdX pic.twitter.com/JVkuSf8Aib

— People Magazine (@people) June 14, 2016
Cher
NO WORDS GOOD ENOUGH😫‼️WHEN UR HURT, WOUNDED, MURDERED WE ALL CRY‼️WE ALL MOURN ‼️WE R ALL LESS WITHOUT U MY EXTENDED FAMILY😥😭‼️#URNOTALONE

— Cher (@cher) 12. Juni 2016
someone made this 4 me….im
so proud….AND YET….MY 💔 IS BROKEN pic.twitter.com/SP3qZUNs2B

— Cher (@cher) 13. Juni 2016
Barbra Streisand
Barbra Streisand hat ihren ersten Auftritt bei den Tony Awards nach 46 Jahren am Sonntag genutzt, um ein Statement abzugeben, das indirekt auch auf die unzählen LGBT-Künstler anspielt, die zweifellos im Musical- und Theaterbereich arbeiten:
"Tonight our joy is tinged with sorrow, but we're here to celebrate Broadway and the beauty that artistry can bring into this world," Streisand said. "The artists that write the plays, the composers and the lyricists who write the songs, and the actors who bring them to life. Art can entertain us and educate us, and in times like these, console us."

Ansonsten hat die Streisand bislang kein längeres Statement abgegeben. Sie nimmt sich für so etwas in der Regel aber auch Zeit.
Bette Midler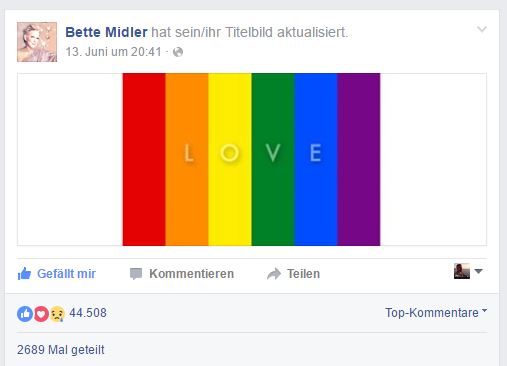 Olivia Newton-John
Paul McCartney
We stand together with Orlando #OneOnOne pic.twitter.com/dRNa8Fo2I1

— Paul McCartney (@PaulMcCartney) 14. Juni 2016
Liza Minnelli
Britney Spears
Adele
Gloria Estefan
Die Latin-Queen hat in ihrem Tribut den schwulen Tänzer Anthony Laureano hervorgehoben, der vor seiner Ermordung in einem ihrer Cafés arbeitete.
Mary Roos
LeAnn Rimes
Janet Jackson
Céline Dion
Cyndi Lauper
Lara Fabian
Katy Perry

Tina Arena
Jane Monheit
That being said, let's make this the best Tony's night ever. This is a night that brings LGBT and straight ppl together. Love is STRENGTH.

— Jane Monheit (@JaneMonheit) June 12, 2016
Guys. Stop promoting your shit for a minute. An entire community and those who love and support them are in mourning. Respect that, please.

— Jane Monheit (@JaneMonheit) June 12, 2016
Dixie Chicks
…bei einem Konzert in New York.
The @dixiechicks tonight in NYC. #WeAreOrlando pic.twitter.com/nt52HM7XoE

— GLAAD (@glaad) 14. Juni 2016
Patty Loveless
Es gibt zwar einige Country-Stars, die ihr Beileid bekundet haben, die meisten sprechen aber kaum die LGBT-Opfer direkt an. Patty Loveless ist mit ihrem Bild neben den Dixie Chicks oder LeAnn Rimes eine Ausnahme.

Miley Cyrus
beautifully spoken Vice President Joe Biden! #sendinglovetoorlando #lgbtqpride pic.twitter.com/CzZd6PXaXw

— Miley Ray Cyrus (@MileyCyrus) 13. Juni 2016
Belinda Carlisle
Die Go-Go's Sängerin ist die Mutter des schwulen LGBT-Aktivisten James Duke Mason und derzeit wie viele andere 80er-Jahre-Sängerinnen auf einigen Gay-Prides zu sehen.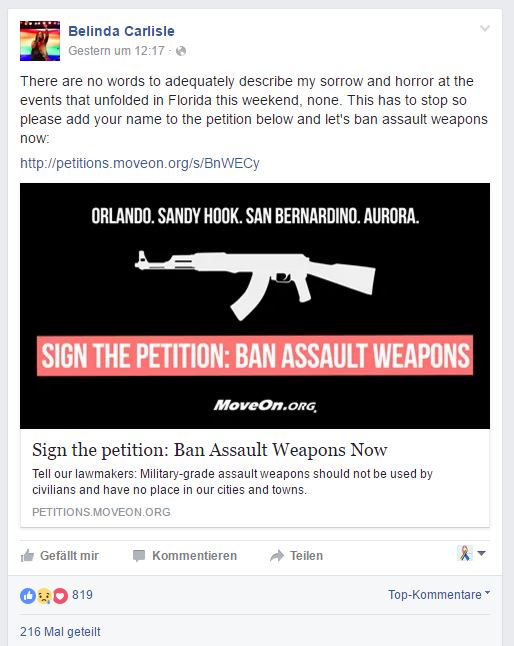 Debbie Gibson
Amen my friend ! Celebrate your love and life ! Sends the strongest message to ignorant hateful folks ! https://t.co/BzJ0AM2C7Z

— Debbie Gibson (@DebbieGibson) June 13, 2016
Dannii Minogue
— Dannii Minogue (@DanniiMinogue) 13. Juni 2016
Taylor Dayne
In solidarity and Pride we stand #orlando #nohate #educate #tolerance https://t.co/GsCBD3F0nk

— Taylor Dayne (@taylor_dayne) 13. Juni 2016
The Pointer Sisters